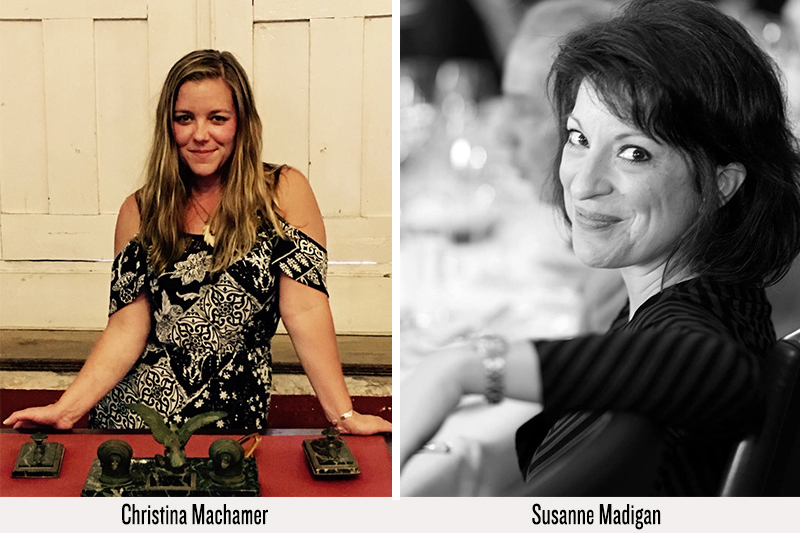 Many of our FRIAS fans have had the opportunity to meet the men of FRIAS, but have you had the pleasure of getting to know Susanne Madigan or Christina Machamer? These are the women at FRIAS – a dynamic duo and a force to be reckoned with. Their names may sound familiar if you've ever booked a tasting through Susanne or have inquired about the FRIAS Allocation with Christina. We recently had the opportunity to interview both women to get to know them a little bit better.
Let's get started with your background.
SUSANNE: "I'm a Mom with five kids and two grown bonus kids. I have a little grandson in Texas, a white German Shepherd, a black cat, a chameleon, and fish. I am a California native from a large Spanish and Irish family, who lived nine years in rural Wisconsin. I've home-birthed, home-schooled, run small companies, and been a substitute teacher but mostly I love being with my children."
CHRISTINA: "I have a background in culinary arts and strategic sales management. I have been consulting for FRIAS Family Vineyard for a little over two years, where I manage the FRIAS Allocation and Lady of the Dead clubs along with handling shipping and logistics for Manny and Fern."
How did you get started in the wine industry?
SUSANNE: "When I returned to Napa in 2012, I took a job with Napa Chamber of Commerce, where I met a lot of community and industry members and was contacted one day by the infamous John Caldwell. I was the COO for Caldwell Vineyard for about three years and then I moved on to FRIAS Family."
CHRISTINA: "I was a chef in Los Angeles working for a notable restaurant—meaning I was cooking awesome food but making next to nothing while simultaneously working through the Court of Master Sommeliers program becoming a Certified Sommelier. I had the opportunity to move to the Napa Valley and manage a small brand as they transitioned to having their first physical tasting room, and then as they purchased and built their winery facility in Oakville."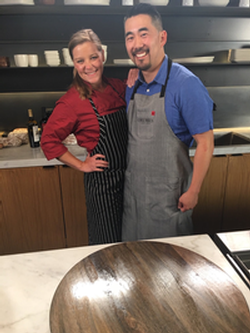 Fun fact: Christina won the fourth season of Fox Network's reality cooking show Hell's Kitchen. Pretty impressive if you ask us!
What is the most rewarding thing about your job?
SUSANNE: "Most rewarding thing about working with FRIAS is helping the family strengthen their business. We've done a lot in two years. I really enjoy visiting with clients too—there's an authentic connection and loyalty that goes both ways, and that's pretty rare. After a day of crunching numbers it's very satisfying to speak with a client and set them up with the wines they are excited about—it makes me smile."
CHRISTINA: "I am extremely competitive by nature, so I find it rewarding when we meet company goals."
What's your favorite food and wine pairing?
SUSANNE: "Whatever we're tasting right now. I love cooking by request—seeing the meal take shape, pairing it well with the right music, and an adult beverage, then sitting around enjoying our family time together."
CHRISTINA: "My favorite food and wine pairing is a well made-burger and an Oakville Cab like our PRADO or BLOCK FIVE that has lots of fruit and oak."
Match each FRIAS wine with a celebrity and why?
SUSANNE: "I love this question. Now I'm going to create a dish for each Wine Celeb and then watch one of their movies."
CHRISTINA: "I am not good with celebrities. Seriously, when I watch a movie with my husband he will say "Is that so and so from Blah Blah?" and I have no idea."
​​SUSANNE: "Definitely Gary Sinise… mighty fellow… been around 40+ years… an understated super-star…consistent over time."
CHRISTINA: "Robin, since it's the sidekick to the RESERVA."
SUSANNE: "Clint Eastwood. Strong presence, lasting impression, and solid hero."
CHRISTINA: "Batman… strong, dominant, and the leader."
SUSANNE: "Sophia Loren comes to mind right away. Beautiful, sexy, full-bodied, timeless."
CHRISTINA: "The Penguin. Prado is a bit more austere and starting with the letter P."
SUSANNE: "Andy García IS Block Five. Do I need to say something more? Okay: Warm money."
CHRISTINA: "The Joker. Being more opulent."
SUSANNE: "Audrey Hepburn. Classic elegance."
CHRISTINA: "Harley Quinn. Matches her hair color."
SUSANNE: "Amy Adams—bright, crisp, refreshing. (or, my white German Shepherd, Argos. I think he could also be Sauvignon Blanc)."
CHRISTINA: "Poison Ivy. She wears green and sometimes you can get pyrazine notes in the Sauvignon Blanc, which I associate with the color green."
SUSANNE: "Catherine Zeta-Jones to a tee."
CHRISTINA: "Catwoman. Strong and independent."
What are some of your favorite hobbies?
SUSANNE: "Gardening—as with everything else, I learn by doing. We have a little yard, but we've got food growing wherever I can fit a plant. I also love cooking, caring for our pets, camping, repurposing projects, sewing, and family game night."
CHRISTINA: "I have a 16-month-old son, so my favorite hobbies are chasing him around and cleaning the house. In my single life, I was a passport stamp collector, scuba diver, and lionfish hunter. We look forward to safe travels in the future with a first stop in Belize."
Pick a FRIAS wine and music pairing...ready...set...go!
SUSANNE: "Easy—PRADO and Ottmar Liebert."
CHRISTINA: "I like the 2017 SMD with True Crime Garage. While technically that is a podcast, filled with sarcastic asides from the "Captain," they do have an eerie soundtrack similar to the old Unsolved Mysteries intro music. That said, maybe Lady of the Dead is a better choice."
If you were stranded on a deserted island which FRIAS team member would you bring along and why?
SUSANNE: "Definitely want to be stranded with Christina. We've worked together at two wineries now and we know how to stay out of each other's way. Yes, she's a Wine Club expert, but she's also a somm, chef, wonderful mother, and has a level head. If we do get stranded on that island, it will be the most successful island imaginable, with really good food."
CHRISTINA: "Stranded on a desert island, my team member choice would be based on my motivation. Do I want to get off the island? If so, I am taking Susanne because she gets things done. Do I want to stay on the island? If so, then I am bringing Manny to keep me entertained."
If you could give FRIAS fans one piece of advice what would it be?
SUSANNE: "Always take delivery on the first attempt! Buy big bottles when you can! Be kind; work hard!"
CHRISTINA: "Since seeing guests in person has been a challenge in 2020, we've invested a lot in shipping promos. Take advantage now—because once Fern and Manny see the bill, the fun will be over!"
Any other fun facts we should know about you?
SUSANNE: "I love how wine is an integral part of life; little snacks, Sunday brunch, big family dinners, feet up, alone. Sad times, happy times; celebrations, and sacraments. Wine industry people—we get to be a tiny part of all of these things with you, just by doing our jobs. That's pretty neat."
As you can see, these two women have personalities, a strong work ethic, and a passion for what they do. Without each and every team member, we wouldn't be the FRIAS brand we are today. Don't worry boys...we'll get to you soon. Stay tuned!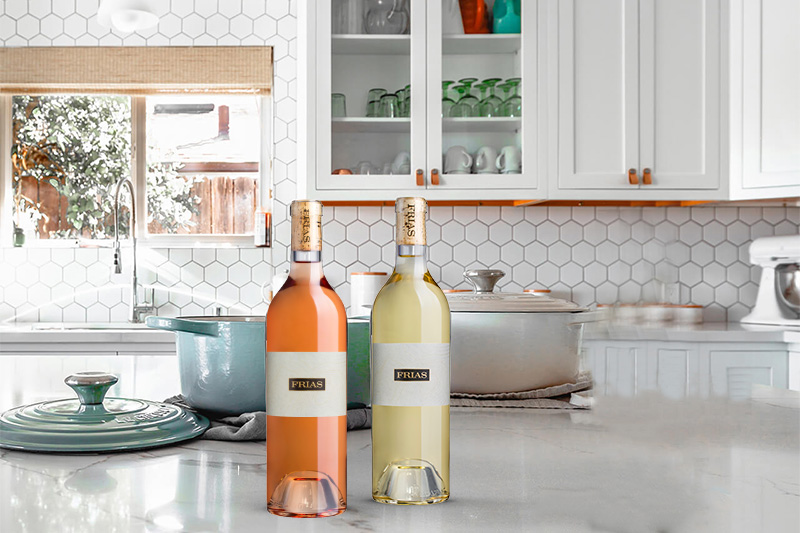 To kick off the summer season, our very own Christina Machamer, winner of the fourth season of Hell's Kitchen, put together two of her favorite food and FRIAS wine pairings. Grab your apron and a glass (or two!) because we've cooked up the ultimate summer food and FRIAS lineup!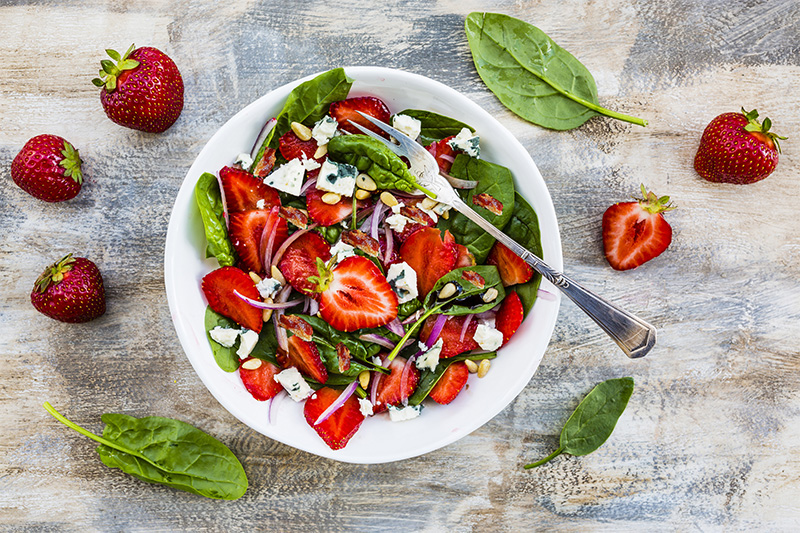 Who doesn't love a simple summer salad paired with a glass of 2019 FRIAS Rosé? You won't believe how easy and delicious this is. There is a diverse mix of flavors in this dish from the fresh strawberries and crispy bacon, intertwined with crumbled bleu cheese over organic mixed greens, lightly drizzled with aged balsamic and olive oil. Top the salad with toasted pepitas, fresh ground pepper, and salt. Serve with a chilled glass of FRIAS Rosé— and you have the ideal summer scene.
Our Rosé is delicate yet versatile, making it the must-have wine for this dish. The acidity and bright fruit balance the combination of bacon, strawberries, and bleu cheese. There is a hint of sweetness but also a level of richness and strength that leaves the palate craving more!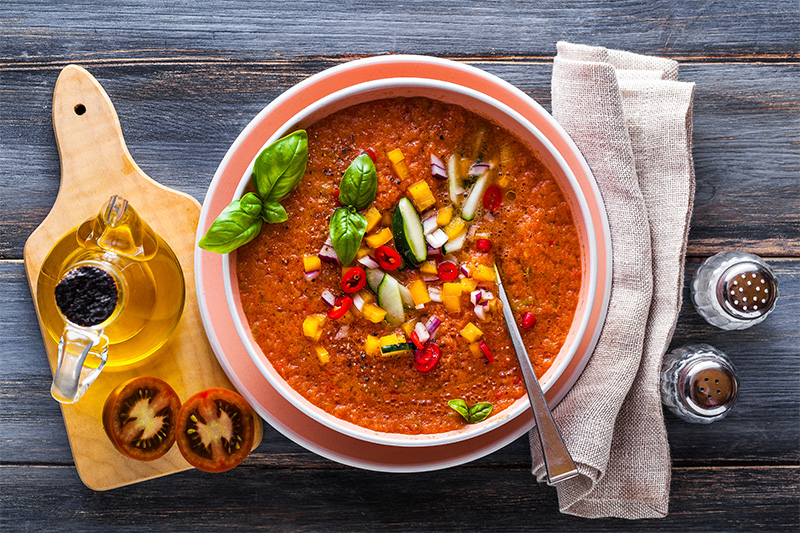 Next up on our summer menu: Peach and Tomato Gazpacho. What better way to embrace the summer weather than with a bowl of Gazpacho with a peachy flair?
Our 2018 FRIAS Sauvignon Blanc is the ideal complement for this pairing because of its fresh fruit and crisp flavor profile that goes hand in hand with the acid in the fresh tomatoes.
You can overload your Gazpacho with shallots, tarragon, garlic, salt, and pepper, and this light citrus wine will still shine with its perfectly-ripened fruit. This leads to a refreshing finish that brings out the tropical nuances within the Sauvignon Blanc. It's a well-balanced wine that accentuates all the combination of flavors from the juicy peaches to the spices.
Now that your stomach is full and your glasses are empty, make sure to stock up on your favorite summertime sippers to kick-off the sunny season ahead! Share with us your favorite FRIAS and food pairings by tagging @friasfamilyvineyard on Facebook or Instagram for a chance to be featured.
Download the recipes:

Meet the FRIAS Family— a family full of generosity, determination, and incredible work ethic. Each family member brings their own unique traits and qualities to the history of the FRIAS name. It is those traits and qualities that go into each bottle of wine we produce. Founded in 1977, FRIAS Family Vineyard is an artisanal family-owned winery located in the Napa Valley sourcing premium fruit from both Spring Mountain and Oakville AVAs. We specialize in small production and terroir-driven wines.
Founders- Manny and Maria Frias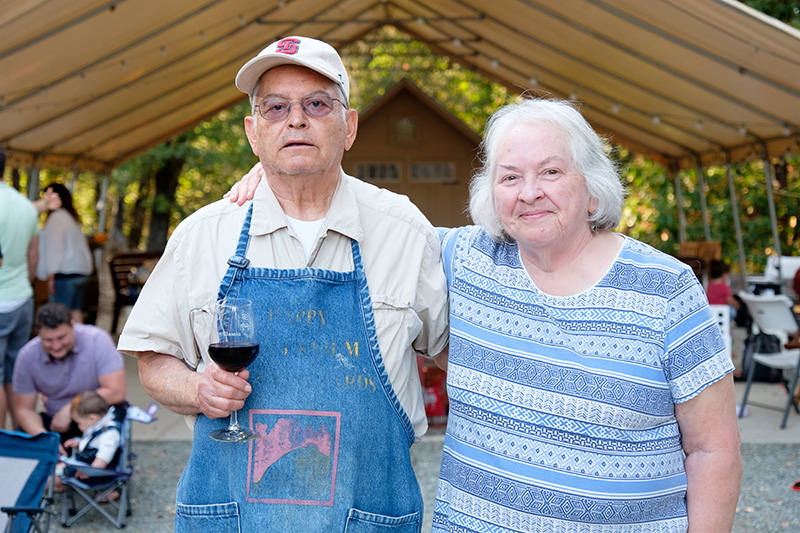 A native of Jalisco State in Mexico, Manuel (Manny) Frias Sr. moved to the United States with his family in 1951. He had the opportunity to grow up in San Francisco, California, where he was introduced to the luxury of Napa Valley wines in college. After the completion of three master's degrees in Education and Administration, Counseling, and Spanish Literature, Manny couldn't wait for the chance to buy property in the beautiful Napa Valley.
In 1977, Manny was finally able to secure his dream of 100 hillside acres that primarily sat in the prestigious Spring Mountain District AVA. He kicked off his new passion with classes on viticulture and enology at the Napa Valley College, and today, Manny Sr. enjoys managing the vineyard with his small crew and spending time with Maria, his children, and his grandchildren.
A True Family Affair- Fernando and Manny Frias Jr.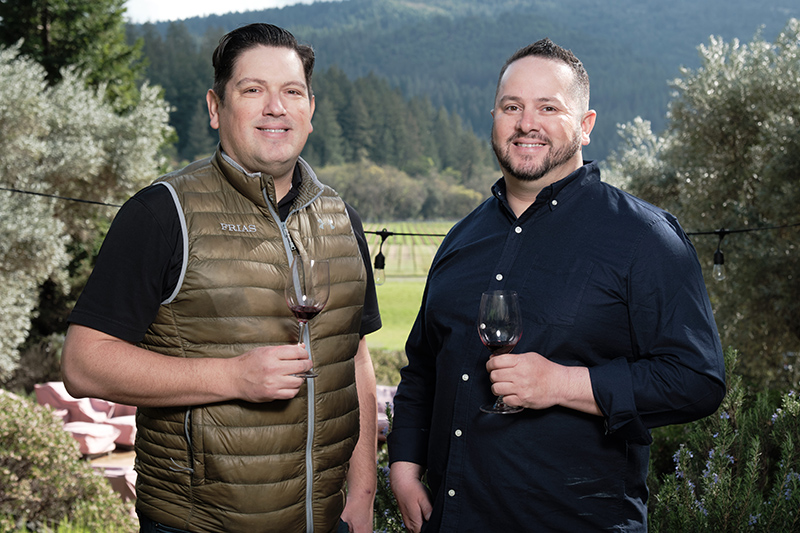 Second generation brothers Fernando and Manny Jr. have taken over the FRIAS operations by bringing the same passion, creativity, and persistence that their father instilled.
Fernando, President and Chief Operating Officer, only abides by a hands-on approach that includes harvesting, bottling, hosting tastings, and traveling for events. He has learned everything from the guidance of his father and he couldn't imagine it any other way. When Fernando isn't working, he enjoys family time with his better-half and two children.
Manny Jr., Vice President, has an exceptional personality that genuinely makes the FRIAS brand complete. He is nothing short of a passionate individual from working in the tasting room to traveling across the country for our On the Road events. With whatever free time he has, you can find him cooking, fishing, and drinking wine. He's even been known to make a TikTok or two...
Both brothers have a people-pleasing personality that sets the FRIAS brand apart from others. Nothing gives them greater pleasure than being able to interact with FRIAS fans all over the United States and to be able to walk into a restaurant and see a FRIAS wine on the list.
It's truly a fantastic family dynamic and one you don't come across often. Whether you've met the brothers or not, you're always family in their eyes! If you've recently discovered our brand or have been a loyal fan for years, we thank you for taking the time to learn the story behind the FRIAS Family name.