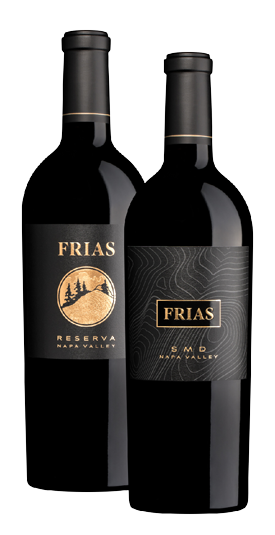 We're so excited to announce our 2022 Spring Release the 2019 Reserva and 2019 SMD! Both are 100% Cabernet Sauvignon sourced from the FRIAS family property on Spring Mountain.
Due to the impact of the Glass Fire in 2020, the next vintages of these wines won't be released until 2024 (now that's a long time to wait!). We encourage our customers to get their hands on this vintage before it runs out.
Not only are these wines very limited, but they are tasting quite exceptional.

The 2019 SMD Cabernet Sauvignon comes from the FRIAS estate vineyard on Spring Mountain and is a wonderful expression of this fantastic vineyard and vintage. Aromas of blackberry jam, cocoa, leather, and spice are seamlessly held up by silky tannins and balanced acidity.
The 2019 Reserva is a beautiful wine that offers power, depth, balance, and complexity. Aromas of dark cherry, black currant, dark chocolate, leather, violets, and spice jump from the glass. From its inky dark color to the finely developed tannins, your senses will be ignited by this well-knit wine. Reserva is comprised of the best lots and barrels from our estate vineyard. Due to such high demand and very limited quantity, in the future, Reserva will only be available to members of our wine club.
For those who are interested in learning more about how to access our limited production wines like our Reserva, we invite you to explore our wine club options. As a member, you'll have guaranteed access to terroir-driven Cabernets, can enjoy complimentary tastings in our Napa private tasting salon, receive invites to exclusive events, and more.
At FRIAS Family Winery, our goal is to provide our customers with the highest caliber of Cabernet Sauvignon wines. Our wines are created with deep intention and are meant to be savored with the ones you love. Make sure to give our beautiful 2019 Spring vintages a try before they run out!

Our recipe uses thinly sliced chicken breast, fresh spinach, flavorful sun-dried tomatoes, in a delicious creamy sauce that pairs perfectly with the robust flavors of our amazing Cabs.
What You'll Need:
2 boneless, skinless chicken breasts
2/3 cup all-purpose flour
3 1/2 tablespoons unsalted butter
1/4 yellow onion diced
2 garlic cloves minced
1/4 cup sun-dried tomatoes (packed in oil) thinly sliced
1 1/2 cups heavy cream
3 ounces Parmesan grated
2 1/2 ounces spinach leaves
salt and pepper to taste
Instructions
Slice each breast in half lengthwise, so you have 4 thinner breasts.
Season each breast on each side with salt and pepper and dredge in flour, shaking off any excess.
Melt 2 tablespoons butter to a skillet over medium heat.
Add coated chicken and sear for about 3 minutes on each side.
Remove chicken from skillet and set aside.
Melt remaining butter and add onion and garlic. Sauté for 5 to 6 minutes or until onions just begin to cook down. Season with salt and pepper.
Add sun-dried tomatoes and continue to sauté for an additional 3 to 4 minutes.
Stir cream into skillet and simmer until cream reduces slightly, about 4 minutes.
Stir Parmesan into cream mixture until smooth creamy.
Add spinach to skillet and stir until spinach leaves have just wilted. Season with salt and pepper.
Add chicken back into skillet, spoon some sauce over each piece and simmer for 3 to 4 minutes. Serve.