March 23, 2021 | Frias Family
We're Celebrating the 2021 FRIAS Spring Release!
The mustard is in full bloom, the days are longer, and the weather is warming up, which means springtime has officially arrived on Spring Mountain! Every release of a new vintage is such an exciting moment for our family, and the 2018 vintage is no exception. This spring will be filled with optimism, and what better way to celebrate a change in season than with new Spring Release wines? Without further ado, meet the must-have 2018 Spring Mountain Cabernet Sauvignons—RESERVA and SMD—and get to know our brand new vineyard project: the 2018 Vangone Cabernet Sauvignon.
---
All Hail the 2018 Spring Mountain Cabs
2018 RESERVA | 96 Points, Jeb Dunnuck & 95 Points, The Wine Advocate
This wine is just a beauty. The 2018 RESERVA is 100% Cabernet Sauvignon from our estate vineyard. Deep garnet-purple in color with intense blackberry barreling out of the glass, the pretty floral high-tone notes, and dark cocoa powder lead further to tilled earth, iron, and leather. A delicious sweetness of fruit on the palate is encased by velour-soft tannins that still have depth and grip with seamless long, lingering dark fruit concentration.
Fern's thoughts on the 2018 RESERVA, "It's an elegant but manly beast. This baby is prime for a bone-in ribeye and a little mac and cheese. Give it a good decant at first and let it get happy for a few hours."
This is a timeless wine and a must-have for your cellar!
2018 SMD | 94 Points, Jeb Dunnuck & The Wine Advocate
Our flagship wine, SMD, truly showed up in 2018. This wine gives up dark, toasty cherry and plum notes followed by mocha, cedar, creosote, saddle leather, a whiff of chocolate cake, and forest floor with some graphite. The bright, juicy blackberries on the palate burst forward with chunky tannins that turn silky, giving structure to a long fruited wine of purity.
Receiving praise from wine critic Jeb Dunnuck such as "A smoking value in Napa Valley Cabernet" and "It's up with the best Napa Cabernets under $100," this is one FRIAS stunner you must try!
---
A New Vineyard Project
2018 Vangone Cabernet Sauvignon | 98 Points, Jeb Dunnuck and The Wine Advocate
This 2018 FRIAS Vangone Cabernet Sauvignon is the inaugural release of an exciting new vineyard project from the Vangone Vineyard. This wine is extremely limited in production—we only made 49 cases! Vangone Vineyard is perched 900 feet above Rector Reservoir and situated just south of Pritchard Hill, overlooking Oakville Cross Rd. Why the name Vangone? When the remote property was about to be developed, police brought to the owner's attention a van that had mysteriously been abandoned there, chock-full of a controlled substance (that has recently been legalized in California). The owner mentioned the problem to a vineyard worker, and when he inquired about the whereabouts of the van the next day, he was simply told, "Vangone."
The 2018 Vangone sports an uber dark core of intense, layered black fruits (a heart of darkness), framed by sandalwood, exotic spices, toasty mocha, dried flowers, and a slight ginger-soy interplay. Its sweet fruit attack of blackberry and black currant leads to a chewy dark wine of depth that has opulence and elegance built on a solid frame and richness that is enveloped in a long pure mineral-laced finish.
Jeb Dunnuck said, "I can't find anything wrong with it," and we couldn't agree more!
---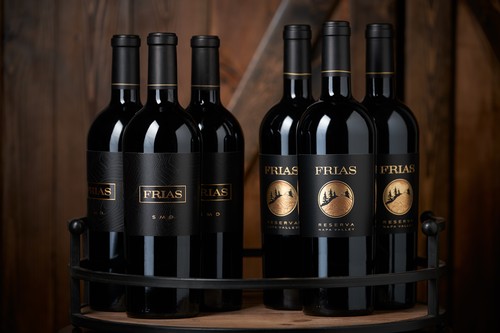 The 2021 FRIAS Spring Release is a lineup that our family is incredibly proud of. We can't wait for FRIAS fans to get their hands on these beauties and start enjoying them with family and friends. This vintage will be filled with memories, an embodiment of positivity, and just a good time.
Uncork these wines for BBQs, days on the lake, a night at home, or whatever springtime activity you have planned. Make sure to share with us on social media! If you still haven't purchased the 2021 FRIAS Spring Release, check out our online shop and grab yourself a couple of bottles. Cheers to a killer vintage of FRIAS!
Comments
Commenting has been turned off.