February 8, 2022 | Frias Family
The BEST Creamy Tuscan Chicken for FRIAS Cabs!
Our recipe uses thinly sliced chicken breast, fresh spinach, flavorful sun-dried tomatoes, in a delicious creamy sauce that pairs perfectly with the robust flavors of our amazing Cabs.
What You'll Need:
2 boneless, skinless chicken breasts
2/3 cup all-purpose flour
3 1/2 tablespoons unsalted butter
1/4 yellow onion diced
2 garlic cloves minced
1/4 cup sun-dried tomatoes (packed in oil) thinly sliced
1 1/2 cups heavy cream
3 ounces Parmesan grated
2 1/2 ounces spinach leaves
salt and pepper to taste
Instructions
Slice each breast in half lengthwise, so you have 4 thinner breasts.
Season each breast on each side with salt and pepper and dredge in flour, shaking off any excess.
Melt 2 tablespoons butter to a skillet over medium heat.
Add coated chicken and sear for about 3 minutes on each side.
Remove chicken from skillet and set aside.
Melt remaining butter and add onion and garlic. Sauté for 5 to 6 minutes or until onions just begin to cook down. Season with salt and pepper.
Add sun-dried tomatoes and continue to sauté for an additional 3 to 4 minutes.
Stir cream into skillet and simmer until cream reduces slightly, about 4 minutes.
Stir Parmesan into cream mixture until smooth creamy.
Add spinach to skillet and stir until spinach leaves have just wilted. Season with salt and pepper.
Add chicken back into skillet, spoon some sauce over each piece and simmer for 3 to 4 minutes. Serve.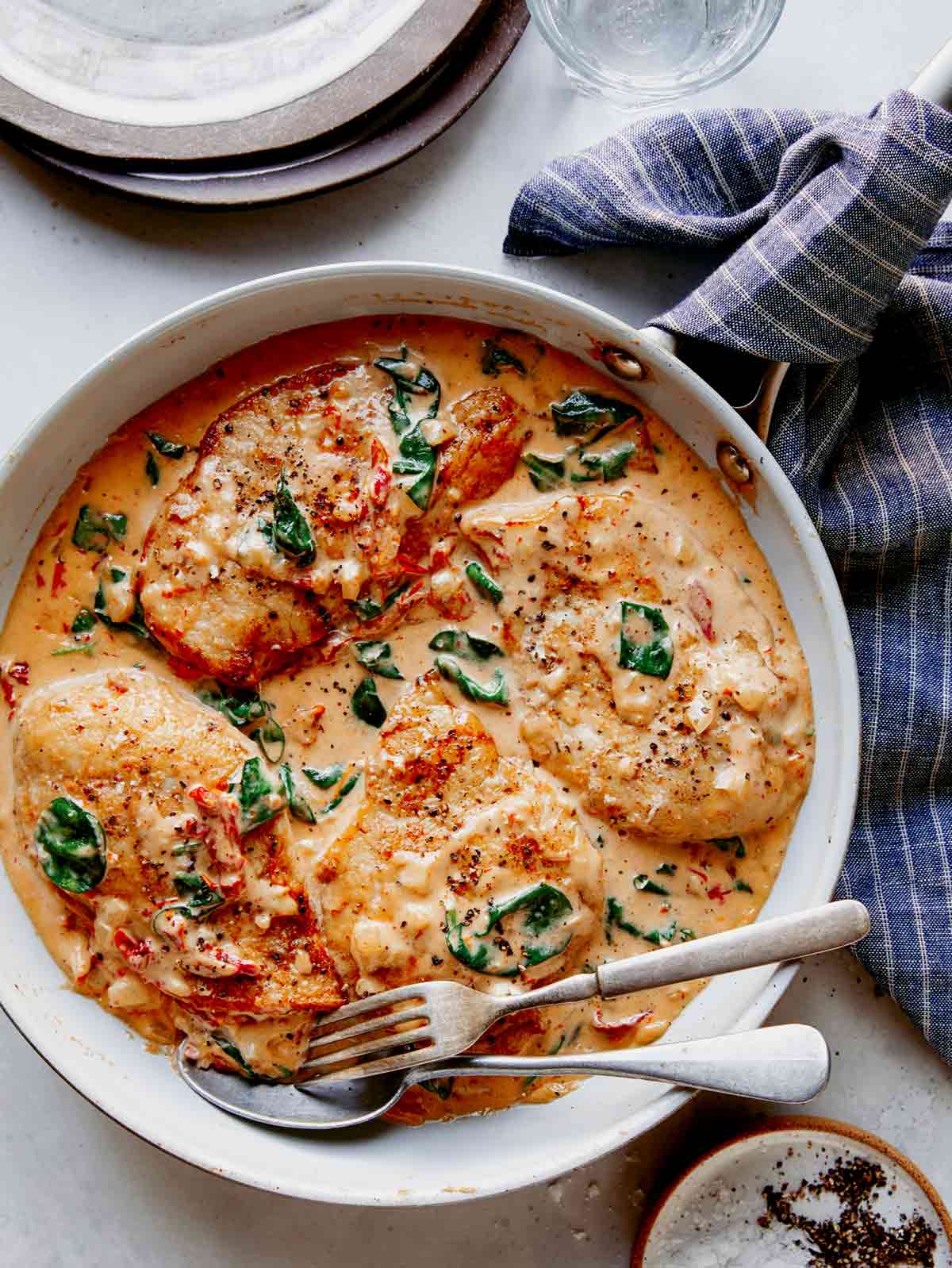 Comments
Commenting has been turned off.