April 6, 2022 | Frias Family
Raise a Glass to Mom This Mother's Day with Our New 2021 Rosé and Sauvignon Blanc (Mother's Day Brunch Recipe Inside!)
Spring is here! Wild lupine and California poppies are blanketing our open spaces in stunning, vibrant color. We can think of only one thing lovelier than that: Mom…and all of the Mother figures in our lives. This Mother's Day, our new 2021 vintages of Rosé and Sauvignon Blanc will help make your celebration of Mom extra wonderful.
The 2021 Sauvignon Blanc opens with honeydew and cantaloupe aromas underlaid by elderflower and a hint of vanilla and mint. On the palate it races with bright juicy fruit, even pineapple and tropical notes, while bristling with lively acid, sweet fruit and a playful tingling spritz with citrus oil in the finish.
Pretty floral aromas in our 2021 Rosé fill the nose as strawberry and watermelon along with candied red fruits and cinnamon spice come to the fore. Intense summery fruits with ripe berries and melons play off juicy and vibrant fruit on the palate with a mouthfilling, long and round finish that lingers.
For her special day, why not cook up a brunch that will pair perfectly with these wines? Our Rosé and Sauvignon Blanc both go beautifully with a savory quiche — try this Recipe: Savory Smoked Salmon, Dill & Goat Cheese Quiche with Fruit Salad.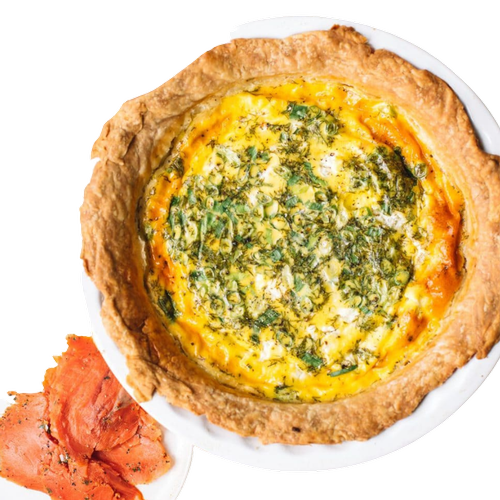 Recipe:
This quiche is filled with bold flavors like fresh dill, smoked salmon and goat cheese. Each bite is balanced with fluffy eggs, golden crust, and rich savory flavor from the smoked salmon.
Ingredients:
all-purpose flour
salt
unsalted butter
eggs
half and half
cracked black pepper
hot sauce
fresh dill
green onions
goat cheese
smoked salmon
How to make this easy quiche:
Prepare your pie dough mixture and roll out into a tart or pie dish. Freeze the dough for 30 mins.
Cover your dough with parchment paper and add rice or dried beans to 'blind 'bake' your pie dough for 15 minutes at 375 F.
Whisk together eggs, half and half, salt, pepper, hot sauce, dill and green onions. Pour egg mixture into pie shell and dollop with goat cheese and smoked salmon. Bake quiche for 40-50 minutes or until the center is just set.
What to serve with your quiche:
You can serve this up with a simple fruit salad. Enoy!
Comments
Commenting has been turned off.