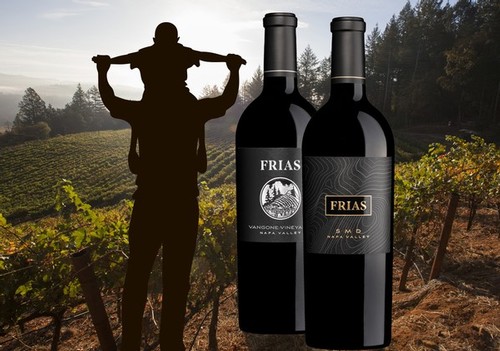 From our family to yours, we're sending gratitude to all the special Father figures out there this Father's Day! Celebrate Dad by gifting him a vertical of SMD (2017, 2018 & 2019) or a 3 pack of our limited 2019 VANGONE.
These wines are drinking beautifully right now and can also be saved for his cellar collection. He'll love it!
SMD VERTICAL 3 PACK
The SMD Vineyard is our original site on Spring Mountain. The 2017 vintage is filled with candied fruit, baking spices, Morello cherry, leather, and smoked meat notes. The 2018 gives up dark, toasty cherry and plum notes followed by mocha, cedar, creosote, saddle leather, a whiff of chocolate cake, and forest floor with some graphite. The 2019 has aromas of blackberry jam, cocoa, leather, and spice that are seamlessly held up by silky tannins and balanced acidity. A beautiful combination of wines perfect for your Cab loving Dad!

SMD VERTICAL 6 PACK (TWO OF EACH VINTAGE)
Dad will enjoy TWO of each SMD 2017, 2018 and 2019 vintage when you purchase this six-pack. These wines show the best of their vibrancy in the first decade, being able to age longer and in the short-term benefit from being decanted to allow them to open up fully. He will be able to enjoy a few bottles today while also saving some for his cellar collection!
2019 VANGONE 3 PACK
This exclusive wine comes from select blocks of the spectacular Vangone estate! The 2019 VANGONE has layers upon layers of complexity and nuance - almost black in color, this rich and inky wine displays aromas and flavors of black cherry, cream de cassis, pencil shavings, leather, cigar, violets, and spice. This makes for an extra special gift that's sure to be appreciated by the father figure in your life.

We hope he enjoys the most special wines we have to offer and happy Father's Day from The Frias Family!

We're thrilled to announce that we're hosting OUR FIRST RELEASE PARTY on August 27th from 2:00pm-4:30pm at Feast It Forward in Napa Valley. Join us for a beautiful afternoon filled with FRIAS select wines, DiFilippo Wood Fired Pizza, live music, and of course great company.

We recommend that you start planning your trip now and have a local travel agent who can procure the best rates at many local hotels. Send her an email or give her a call at (707) 320-8922 to start exploring options today! We look forward to seeing you there.
You can purchase your tickets here!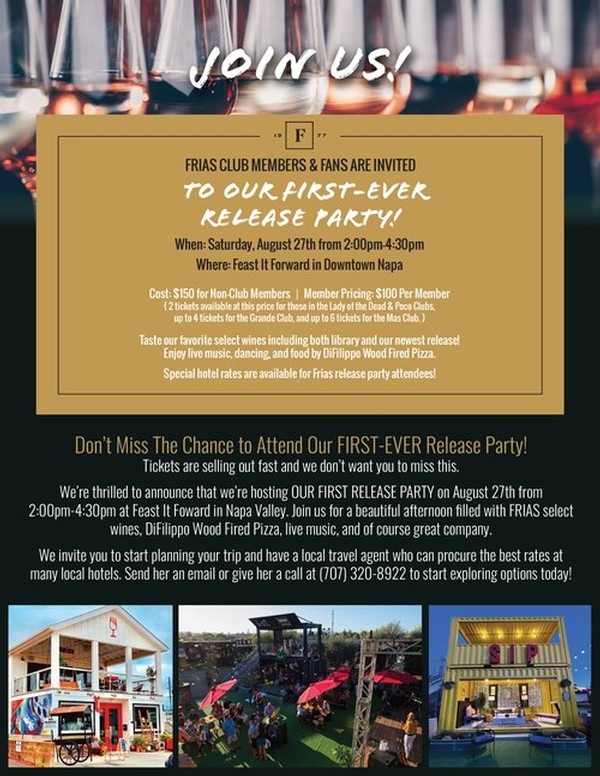 Spring is here! Wild lupine and California poppies are blanketing our open spaces in stunning, vibrant color. We can think of only one thing lovelier than that: Mom…and all of the Mother figures in our lives. This Mother's Day, our new 2021 vintages of Rosé and Sauvignon Blanc will help make your celebration of Mom extra wonderful.
The 2021 Sauvignon Blanc opens with honeydew and cantaloupe aromas underlaid by elderflower and a hint of vanilla and mint. On the palate it races with bright juicy fruit, even pineapple and tropical notes, while bristling with lively acid, sweet fruit and a playful tingling spritz with citrus oil in the finish.
Pretty floral aromas in our 2021 Rosé fill the nose as strawberry and watermelon along with candied red fruits and cinnamon spice come to the fore. Intense summery fruits with ripe berries and melons play off juicy and vibrant fruit on the palate with a mouthfilling, long and round finish that lingers.
For her special day, why not cook up a brunch that will pair perfectly with these wines? Our Rosé and Sauvignon Blanc both go beautifully with a savory quiche — try this Recipe: Savory Smoked Salmon, Dill & Goat Cheese Quiche with Fruit Salad.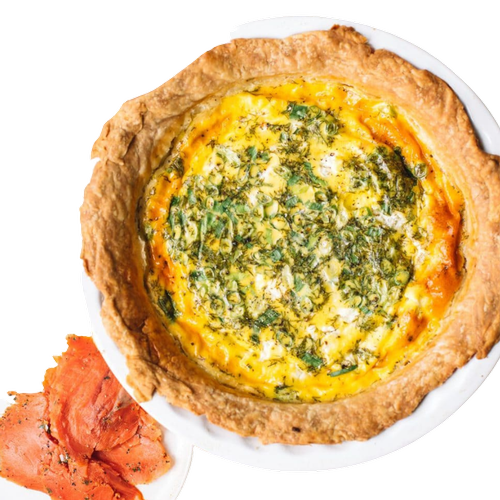 Recipe:
This quiche is filled with bold flavors like fresh dill, smoked salmon and goat cheese. Each bite is balanced with fluffy eggs, golden crust, and rich savory flavor from the smoked salmon.
Ingredients:
all-purpose flour
salt
unsalted butter
eggs
half and half
cracked black pepper
hot sauce
fresh dill
green onions
goat cheese
smoked salmon
How to make this easy quiche:
Prepare your pie dough mixture and roll out into a tart or pie dish. Freeze the dough for 30 mins.
Cover your dough with parchment paper and add rice or dried beans to 'blind 'bake' your pie dough for 15 minutes at 375 F.
Whisk together eggs, half and half, salt, pepper, hot sauce, dill and green onions. Pour egg mixture into pie shell and dollop with goat cheese and smoked salmon. Bake quiche for 40-50 minutes or until the center is just set.
What to serve with your quiche:
You can serve this up with a simple fruit salad. Enoy!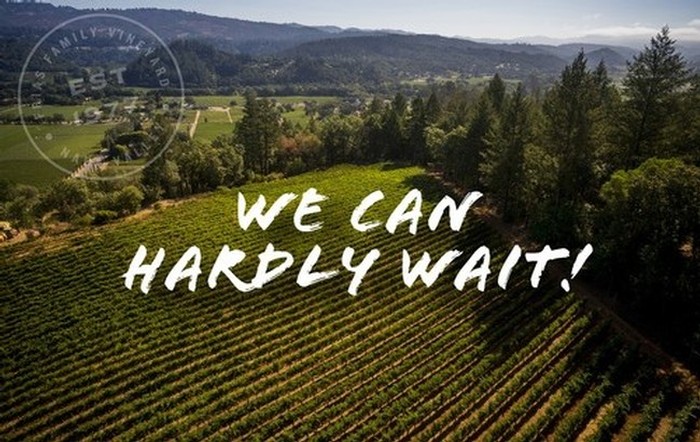 Ready for some good news? True, we have all been touched by unprecedented challenges in the past two years. But here at FRIAS Family Winery, the ripple effects of the Pandemic and the Glass Fire — a double whammy — have kicked our creativity and determination into extra high gear, and helped us remember why we do what we do. It's you!
And to show our gratitude for your support, we have some great things in store to help make 2022 a year we'll toast to with a grin and a great glass of wine.
First, be sure to mark your calendar for our first-ever Wine Release Party! The party takes place on Saturday, August 27th at Feast It Forward in Downtown Napa. We can't wait to see you, and we've even arranged some special hotel rates. You can email KAdamsonconsulting@gmail.com or give her a call at (707) 320-8922 to start planning your trip now!
There's a special new wine coming soon, which will replace next year's SMD + Reserva. Created as a tribute to FRIAS brothers Fern and Manny, this wine truly encapsulates the heart and soul of our brand. The brothers' first winemaking collaboration has resulted in a wine they both truly love and are connected to.
Finally, due to the impacts of the Glass fire and the limited availability of our wines, we'll soon be shifting to an allocation model. We'll be sharing all the details about this in the coming weeks, so stay tuned.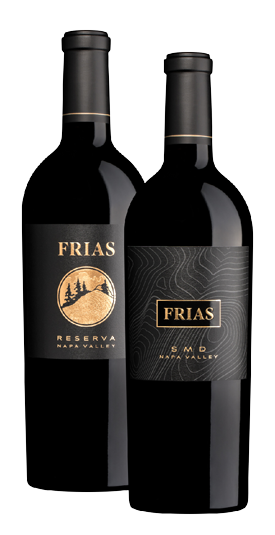 We're so excited to announce our 2022 Spring Release the 2019 Reserva and 2019 SMD! Both are 100% Cabernet Sauvignon sourced from the FRIAS family property on Spring Mountain.
Due to the impact of the Glass Fire in 2020, the next vintages of these wines won't be released until 2024 (now that's a long time to wait!). We encourage our customers to get their hands on this vintage before it runs out.
Not only are these wines very limited, but they are tasting quite exceptional.

The 2019 SMD Cabernet Sauvignon comes from the FRIAS estate vineyard on Spring Mountain and is a wonderful expression of this fantastic vineyard and vintage. Aromas of blackberry jam, cocoa, leather, and spice are seamlessly held up by silky tannins and balanced acidity.
The 2019 Reserva is a beautiful wine that offers power, depth, balance, and complexity. Aromas of dark cherry, black currant, dark chocolate, leather, violets, and spice jump from the glass. From its inky dark color to the finely developed tannins, your senses will be ignited by this well-knit wine. Reserva is comprised of the best lots and barrels from our estate vineyard. Due to such high demand and very limited quantity, in the future, Reserva will only be available to members of our wine club.
For those who are interested in learning more about how to access our limited production wines like our Reserva, we invite you to explore our wine club options. As a member, you'll have guaranteed access to terroir-driven Cabernets, can enjoy complimentary tastings in our Napa private tasting salon, receive invites to exclusive events, and more.
At FRIAS Family Winery, our goal is to provide our customers with the highest caliber of Cabernet Sauvignon wines. Our wines are created with deep intention and are meant to be savored with the ones you love. Make sure to give our beautiful 2019 Spring vintages a try before they run out!

Our recipe uses thinly sliced chicken breast, fresh spinach, flavorful sun-dried tomatoes, in a delicious creamy sauce that pairs perfectly with the robust flavors of our amazing Cabs.
What You'll Need:
2 boneless, skinless chicken breasts
2/3 cup all-purpose flour
3 1/2 tablespoons unsalted butter
1/4 yellow onion diced
2 garlic cloves minced
1/4 cup sun-dried tomatoes (packed in oil) thinly sliced
1 1/2 cups heavy cream
3 ounces Parmesan grated
2 1/2 ounces spinach leaves
salt and pepper to taste
Instructions
Slice each breast in half lengthwise, so you have 4 thinner breasts.
Season each breast on each side with salt and pepper and dredge in flour, shaking off any excess.
Melt 2 tablespoons butter to a skillet over medium heat.
Add coated chicken and sear for about 3 minutes on each side.
Remove chicken from skillet and set aside.
Melt remaining butter and add onion and garlic. Sauté for 5 to 6 minutes or until onions just begin to cook down. Season with salt and pepper.
Add sun-dried tomatoes and continue to sauté for an additional 3 to 4 minutes.
Stir cream into skillet and simmer until cream reduces slightly, about 4 minutes.
Stir Parmesan into cream mixture until smooth creamy.
Add spinach to skillet and stir until spinach leaves have just wilted. Season with salt and pepper.
Add chicken back into skillet, spoon some sauce over each piece and simmer for 3 to 4 minutes. Serve.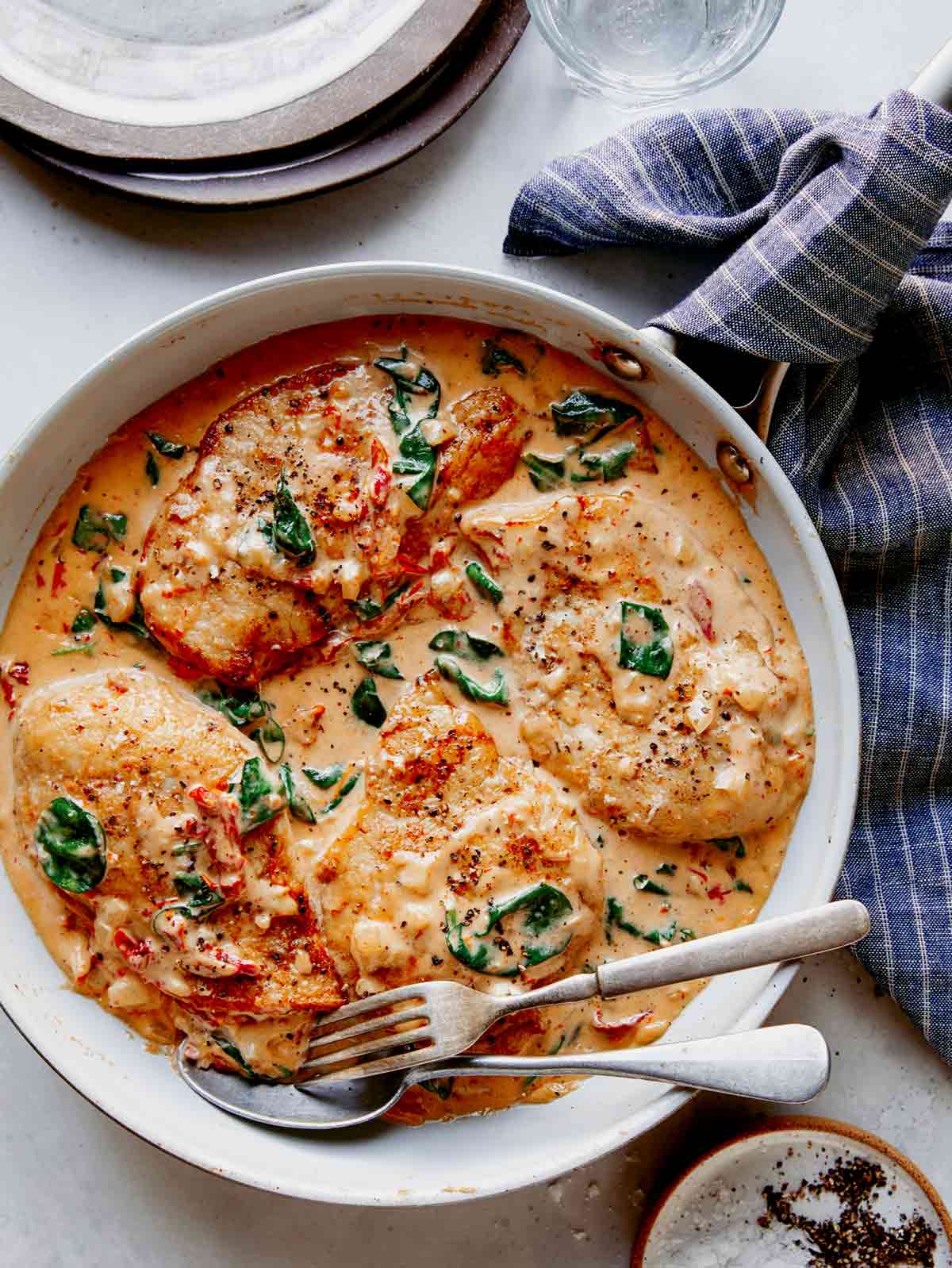 Enjoy your Summer with Sauvignon Blanc & Rosé
The newly bottled 2020 Rosé is made from beautiful Syrah and Cabernet from premium vineyard sites in Paso Robles. We were able to bottle just 70 cases of Rose for the vintage; less than we typically do, but a lot better than none! With such limited quantities of 2020 Rose and a small amount of 2019 Sauvignon Blanc remaining, be sure to grab some of these beauties for Summer refreshment before they're gone! We're even offering a special rate on overnight Summer shipping so you can have these wines in hand soon.

Just prior to Memorial Day, we bottled our stellar lineup of 2019 single-vineyard Cabernets, 2019 Lady of the Dead, and 2020 Rose. Winemaker Todd Heth offered some narrative about what bottling is like and a note about the coming wines.
"It's that exciting, stressful time of year when we can finally gently coax our previous vintage wine from barrel into bottle…this time the 2019s. After stewarding and watching the wine develop from bud break on the vines, berry and grape cluster development, harvest, crush and then aging in barrel, bottling is the culmination on the winery side. Getting the boisterous new wines into bottle is a delicate balancing act, from gently moving the wine out of the barrels to making sure all the bottling supplies arrive on time (no small feat due to congested shipping and supplies limitations over the past year). Bottling days can be fun with an extra crew on hand to help packing, labeling, stacking, and all the extra energy, music, food, and talk. And there's the pride of seeing the final package, with shiny new labels coming off the line and putting them into the boxes.
We were happy to taste all of the 2019 vintage wines as we prepared for bottling. While we monitor and taste all the various barrels often over their life in the winery cave, sometimes they can open up, and things come together as we get them ready to send out to the world. 2019 was a great vintage in terms of fruit purity and depth, and as we were tasting, they struck us as having even more dark fruit and deep tones than we had noticed early on. Maybe it was because they started out in the shadows of the great 2018 vintage. But now, they stand tall themselves, having developed deliciously along the way. Each of the wines has their own different character, and overall the aromatic dark fruits and juicy nature of the vintage are beguiling. Tasting together in preparation, it was hard not to smile. All the hard work, effort, and patience have paid off and come to a crescendo. It looks to be a classic vintage that will please folks, and we look forward to sharing these wines with you."
Cheers!
Fern & Manny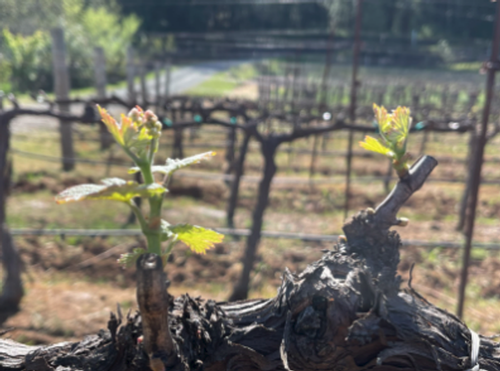 Spring is one of the most beautiful times in California wine country. The buds have burst into new life which are getting us excited for a prosperous new vintage. Restrictions across the country are slowly easing up allowing us to get back out on the road safely, and most importantly, we can finally say we're BACK for tastings after being shut down for over a year. We hoped and dreamed a springtime miracle would happen, and we're so glad we can say it has!
---
We're Back, Baby!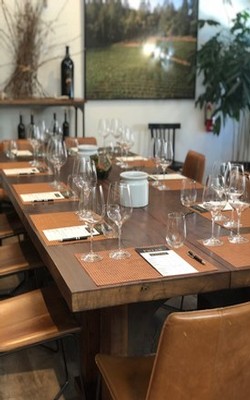 We've been patiently counting down the days until we were able to utter the words "we're ready to host you safely," and now we can! We want to express our sincere gratitude to you all for sticking by us and supporting our small family-owned business in whatever way you could when we were shut down. Times were hard and still are, and knowing our fans had our backs through it all makes us realize how extremely lucky we are.
That said, our team is eager and ready to pour you the newest releases of our most coveted wines!
Here's what you need to know when joining us for a tasting:
We will host by appointment only, one group at a time.
We've always had high sanitation standards, but we're doubling our efforts and adding additional protocols to protect our FRIAS fans and team.
We're here to provide you with an enjoyable and relaxing experience! To book your private tasting, phone our office at 707-927-5106, send us an email at info@friasfamilyvineyard.com, or submit a reservation form.
---
On the Road Again...
One of our favorite opportunities is connecting with our fans not only in our Napa Valley home, but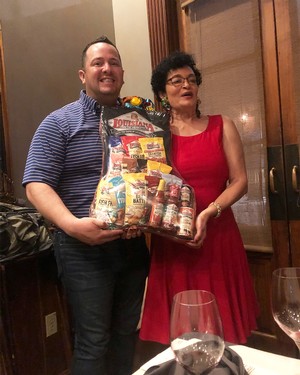 wherever they like to call home. With extremely limited travel over the past year, Manny and Fern didn't get the chance to visit our fans as much as they would have liked to. With restrictions all over the country slowly easing up, they have been starting to get back out there and connecting with you.
Manny recently made his way south where FRIAS fan Paula sent us home with the taste of Louisiana! We're officially taking suggestions on which FRIAS wine and spicy cajun dish he should whip up. Our team was thinking our full-bodied, multi-layered 2018 BLOCK FIVE will cut through and accentuate the various spices with whatever recipe Manny chooses. The FRIAS brothers are currently out traveling, so make sure to say "hi" if they're in your neck of the woods!
---
Mothers Love FRIAS!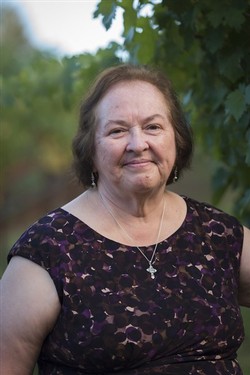 Yes, Mother's Day is right around the corner, and we've pulled out two essential FRIAS wines that will please the palates of all the moms out there! No Mother's Day would be complete without a bottle of our PRADO and our crisp Sauvignon Blanc. The PRADO is extremely special to our family as it's a tribute to our sweet mother, Maria's maiden name!
Surprise that special mom in your life now through Sunday, May 9th by enjoying half-price ground shipping when you mix-and-match six or more bottles of our 93+ point 2017 PRADO and 2019 Sauvignon Blanc.
---
FRIAS springtime is in full swing! This season our team will connect with our fans in whatever way they feel comfortable doing so. If you'd like to join us for a tasting, the FRIAS Man Cave is calling your name. If you'd like us to come out on the road, you know who to call (707-927-5106). And, if you'd like to get stocked up on our killer wines, you know where to look!
We love hearing from you, so make sure to share with us on social media how you're enjoying FRIAS. Cheers to optimism, determination, and a good time!

The mustard is in full bloom, the days are longer, and the weather is warming up, which means springtime has officially arrived on Spring Mountain! Every release of a new vintage is such an exciting moment for our family, and the 2018 vintage is no exception. This spring will be filled with optimism, and what better way to celebrate a change in season than with new Spring Release wines? Without further ado, meet the must-have 2018 Spring Mountain Cabernet Sauvignons—RESERVA and SMD—and get to know our brand new vineyard project: the 2018 Vangone Cabernet Sauvignon.
---
All Hail the 2018 Spring Mountain Cabs
2018 RESERVA | 96 Points, Jeb Dunnuck & 95 Points, The Wine Advocate
This wine is just a beauty. The 2018 RESERVA is 100% Cabernet Sauvignon from our estate vineyard. Deep garnet-purple in color with intense blackberry barreling out of the glass, the pretty floral high-tone notes, and dark cocoa powder lead further to tilled earth, iron, and leather. A delicious sweetness of fruit on the palate is encased by velour-soft tannins that still have depth and grip with seamless long, lingering dark fruit concentration.
Fern's thoughts on the 2018 RESERVA, "It's an elegant but manly beast. This baby is prime for a bone-in ribeye and a little mac and cheese. Give it a good decant at first and let it get happy for a few hours."
This is a timeless wine and a must-have for your cellar!
2018 SMD | 94 Points, Jeb Dunnuck & The Wine Advocate
Our flagship wine, SMD, truly showed up in 2018. This wine gives up dark, toasty cherry and plum notes followed by mocha, cedar, creosote, saddle leather, a whiff of chocolate cake, and forest floor with some graphite. The bright, juicy blackberries on the palate burst forward with chunky tannins that turn silky, giving structure to a long fruited wine of purity.
Receiving praise from wine critic Jeb Dunnuck such as "A smoking value in Napa Valley Cabernet" and "It's up with the best Napa Cabernets under $100," this is one FRIAS stunner you must try!
---
A New Vineyard Project
2018 Vangone Cabernet Sauvignon | 98 Points, Jeb Dunnuck and The Wine Advocate
This 2018 FRIAS Vangone Cabernet Sauvignon is the inaugural release of an exciting new vineyard project from the Vangone Vineyard. This wine is extremely limited in production—we only made 49 cases! Vangone Vineyard is perched 900 feet above Rector Reservoir and situated just south of Pritchard Hill, overlooking Oakville Cross Rd. Why the name Vangone? When the remote property was about to be developed, police brought to the owner's attention a van that had mysteriously been abandoned there, chock-full of a controlled substance (that has recently been legalized in California). The owner mentioned the problem to a vineyard worker, and when he inquired about the whereabouts of the van the next day, he was simply told, "Vangone."
The 2018 Vangone sports an uber dark core of intense, layered black fruits (a heart of darkness), framed by sandalwood, exotic spices, toasty mocha, dried flowers, and a slight ginger-soy interplay. Its sweet fruit attack of blackberry and black currant leads to a chewy dark wine of depth that has opulence and elegance built on a solid frame and richness that is enveloped in a long pure mineral-laced finish.
Jeb Dunnuck said, "I can't find anything wrong with it," and we couldn't agree more!
---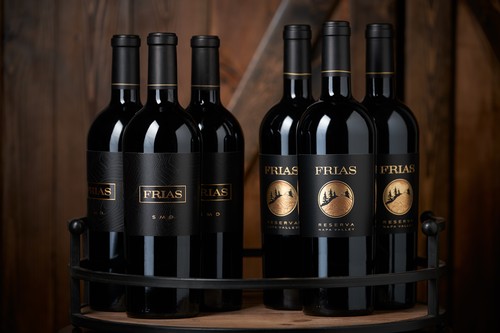 The 2021 FRIAS Spring Release is a lineup that our family is incredibly proud of. We can't wait for FRIAS fans to get their hands on these beauties and start enjoying them with family and friends. This vintage will be filled with memories, an embodiment of positivity, and just a good time.
Uncork these wines for BBQs, days on the lake, a night at home, or whatever springtime activity you have planned. Make sure to share with us on social media! If you still haven't purchased the 2021 FRIAS Spring Release, check out our online shop and grab yourself a couple of bottles. Cheers to a killer vintage of FRIAS!